Wow. 35! Hard to believe I've made it this far. I was shocked when I turned 15, then 18, 21, 23, and 25. All of a sudden, one day I stopped being fearful of my early demise. I can't really say what made me so fatalistic or fearful of an early end, nor what made that end.
In 35 short years, I've experienced things some people don't even believe could be real, things that make nightmares seem pleasant, things that make even the toughest broads shiver.
I've also experienced joy of unquantifiable proportions, the unconditional love of the kindest people, more places than most people see in a lifetime, and the simple endless pleasures of everyday life.
This year and few months of living a nomadic lifestyle in an RV, while still full of challenges and painful loss, has been the best year of my life.
I have never been happier.
This is huge.
Who knew I was supposed to be a hell driving nomad who never stays in one place for long? No wonder so much of my life was spent in frustration of where I was and the prison of standard and expected life in the USA.
This is a picture of me from my 34th birthday last year at John Martin Reservoir in Bent County, Colorado. It was a lovely, though windy, campground full of owls, storks, and herons. It was my first time loading up water in the rig, because we didn't have water or sewer hook-ups.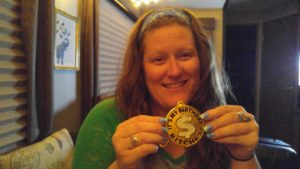 I couldn't have imagined the challenges I'd face since then or the things I would learn to do. I'm thankful to my mom for raising me to be a woman who knows who I am and who does what needs to be done. We have fun despite the horrifying and unfamiliar trials we face.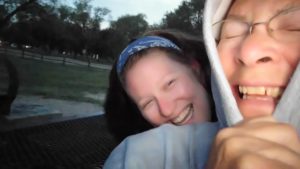 So many folks call me fearless, but I am not. Some days, I'm full of apprehension of things unknown or terrifying. I just move forward anyway. You really can't be courageous or brave without first feeling fear, anyway. Life is hard, but it would be even harder if I stayed in my comfort zone and failed to enjoy all of the adventure that's out there just waiting to be embraced.
Even though I'm still uncertain of my life's purpose and career path, I now know I was born a wanderer. I'm so thankful I stopped fighting it. Now, that I've let that roving desire lead, I am much happier.
It's been a wild year, but one I'm extremely thankful for. I can't wait to see how mom and I will celebrate tonight and what the next year will bring. Whatever it is, I know it will include unimaginable amounts of joy.