It's hard to believe that one year ago today, mom and I picked up our travel trailer, stuffed all of our belongings and our three extra large dogs into it, and hit the road. I am thrilled to say we have both adapted to living this way quite well. I'm super proud of my mother for changing her structured lifestyle based on decades of routine so easily and happily. She is loving this lifestyle, as am I!
I had never hauled a thing anywhere near as large as a 35′ travel trailer and it turns out, Jane Doe, my pick-up at the time wasn't the proper machine to haul such a beast, either. I can't remember a time I've been more nervous than literally holding the lives of my entire pack in my hands. We weren't able to take off until it was dark. That made the trip to our very first stop at the KOA in St. Augustine, Florida all the more difficult.
After a heart stopping amount of fishtailing and porpoising action on the road and my first attempt at backing up the rig when we turned down a wrong street, we made it…to the front of a closed KOA campground. I knew which site we were in, but with no map of the camp, I was clueless as to how to get there.
This is when I first learned about the kindness of my fellow campers and RVers. I stopped at the front office paralyzed with fear of going any further lest I get stuck in a position I hadn't learned to get us out of, yet. An elderly couple in a red sedan came in behind me and as I waved them around me, I also plead for them to stop for a question. These two were so friendly and offered to take us into our site. I followed this lovely couple around the little lake and thanked them as they continued on to their own site.
Next, I had to get into this site, albeit a pull through, without knocking over anything, hitting other rigs, or falling into the lake. At this point, I'm exhausted, stressed, and pretty much clueless with only my general understanding of physics getting me by. Sure enough, our next door neighbor who was outside grilling with his family picked up on this and began guiding me perfectly into the spot.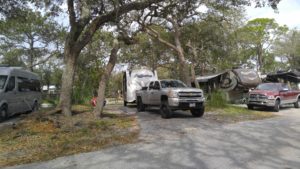 All of the people we met that night were awesome. In fact, most of the RVers we've met across the country have been friendly and helpful.
Once we successfully parked, put down the landing gear, opened up the slides, and helped the dogs negotiate the steps into the RV, mom and I collapsed into our new RV recliners to breathe, laugh, cry, and celebrate. WE DID IT!!!
We were surrounded by boxes of our belongings and had no idea where we were going next, but we were together, safe, and happy. Sometimes, that's all that matters.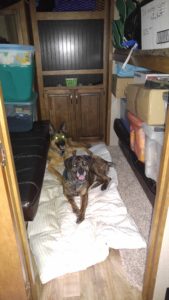 This past year has been full of both adventure and tragedy. Mom and I have come a long way from where we once were and I don't just mean the mileage between Virginia and here.
My only regret is that I wish I'd ventured into the RV Life and full-timing over a decade ago when the thought first crossed my mind and I bought my first pick-up truck. Of course, then I wouldn't have met my Helmur buddy, Nilda babe, Daisy and Dante, all of the cats we fostered and adopted, numerous friends I met through Roller Derby, MMA, and life, nor reconnected with the lady who is now my best friend. So, life happens, we learn what we can, and appreciate our blessings!
All I know is that I am so lucky to be able to enjoy this part of my life's journey with my rock, my mentor, my best buddy, the only person on the planet who sort of gets me, my mother and our beloved dogs-though the pack may  shift entirely too much. I can't wait to celebrate our one year RV Life anniversary tonight and to see where we go and what we get into next!